Thank you to BabbleBoxx for sponsoring this post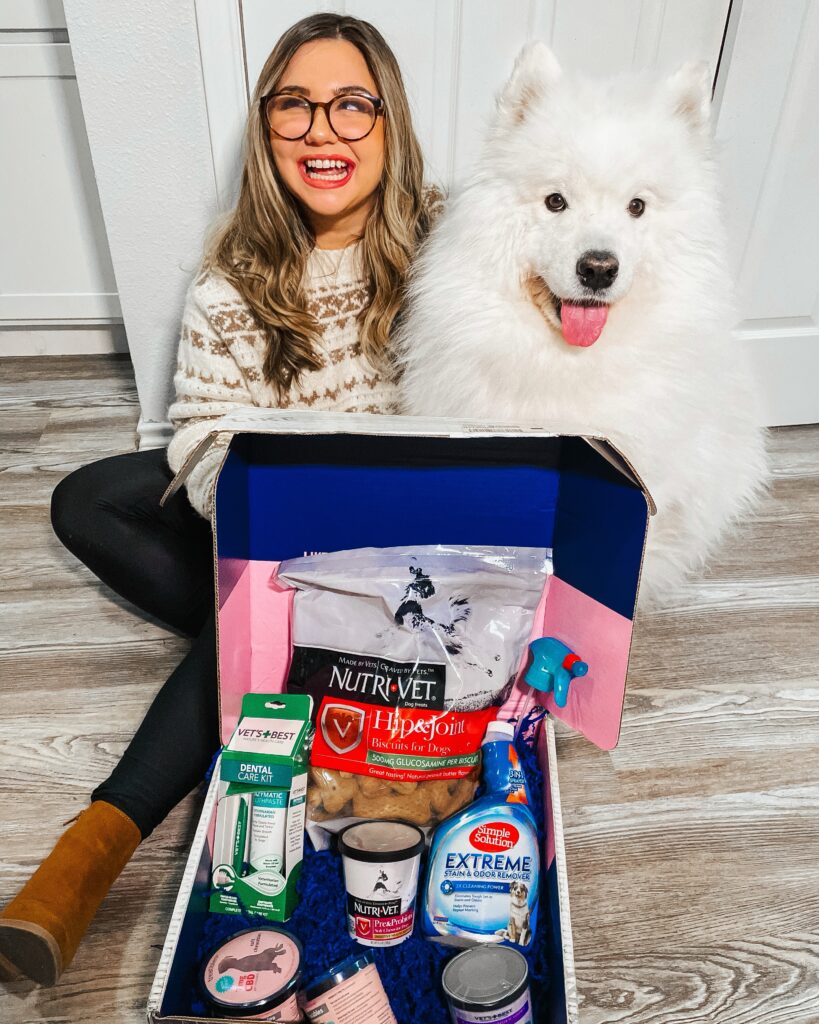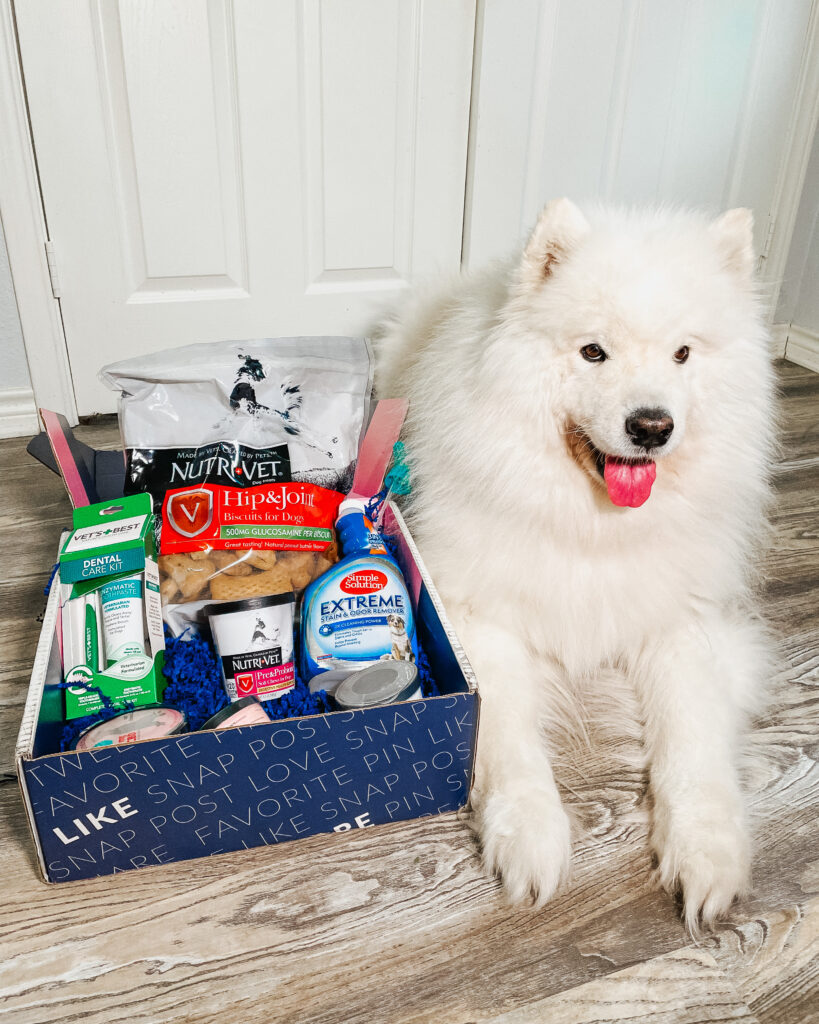 Hi friends! If you've been following along for a bit, you probably know I'm a proud pet mom. I've had Meeko, my four-year-old Samoyed since 2017! Meeko is a member of the family and caring for his health and wellness is a #1 priority to me as a dog mom. I know how important it is to be armed with the right pet products, which is why I thought I'd share some of my favorites with you! Keep scrolling for the full round up and product details and reviews.
Pre and Probiotic Soft Chews from Nutri-Vet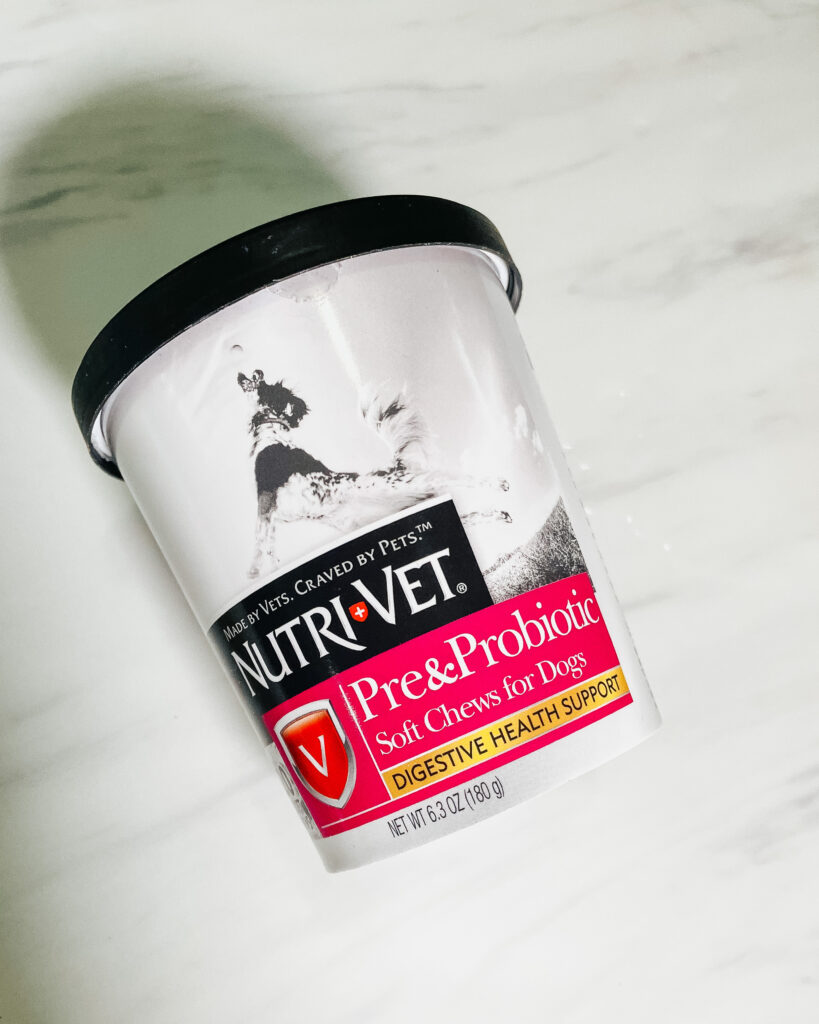 Nutri-Vet understands that pets are family and they've been working directly with veterinarians for 20 years to formulate their products. Their pre and probiotic chews are available for both cats and dogs. The formula for dogs is veterinarian formulated and supports digestive health, promotes proper stool quality, and supports immune health for the long-term health and wellness of your pup. Meeko LOVES and their delicious cheese + liver flavor and doesn't know that his favorite treats are packed with healthy ingredients! It's a treat we can both feel good about.
Nutri-Vet Hip & Joint Dog Biscuits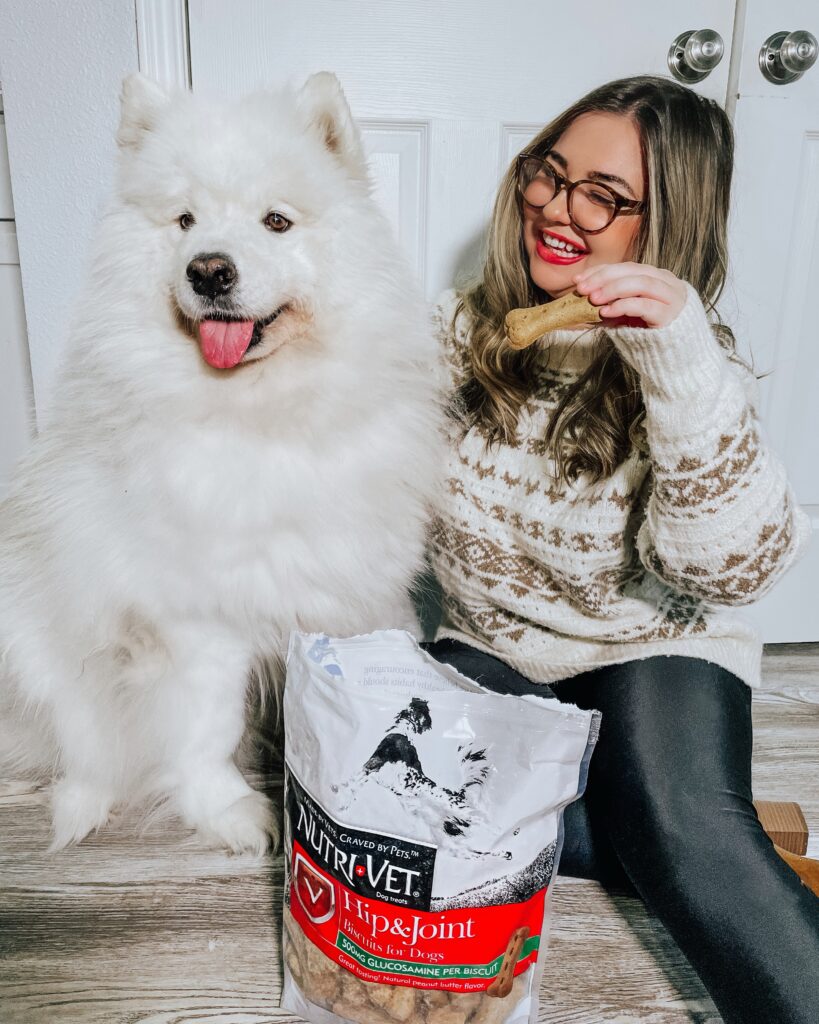 Meeko is a very active pup and recently we've been noticing that he'll periodically limp on his left paw after overexertion during play time. Even though he's young, this made us want to look into dog products that support joint health and we were super happy to find Nutri-Vet's Hip & Joint Dog biscuits. They come in a delicious peanut butter flavor that he can't get enough of and has 500 mg of glucosamine that supports joint mobility and helps maintain normal, healthy cartilage and connective tissue.
You can shop Nutri-Vet products HERE
Simple Solution Extreme Pet Stain & Odor Remover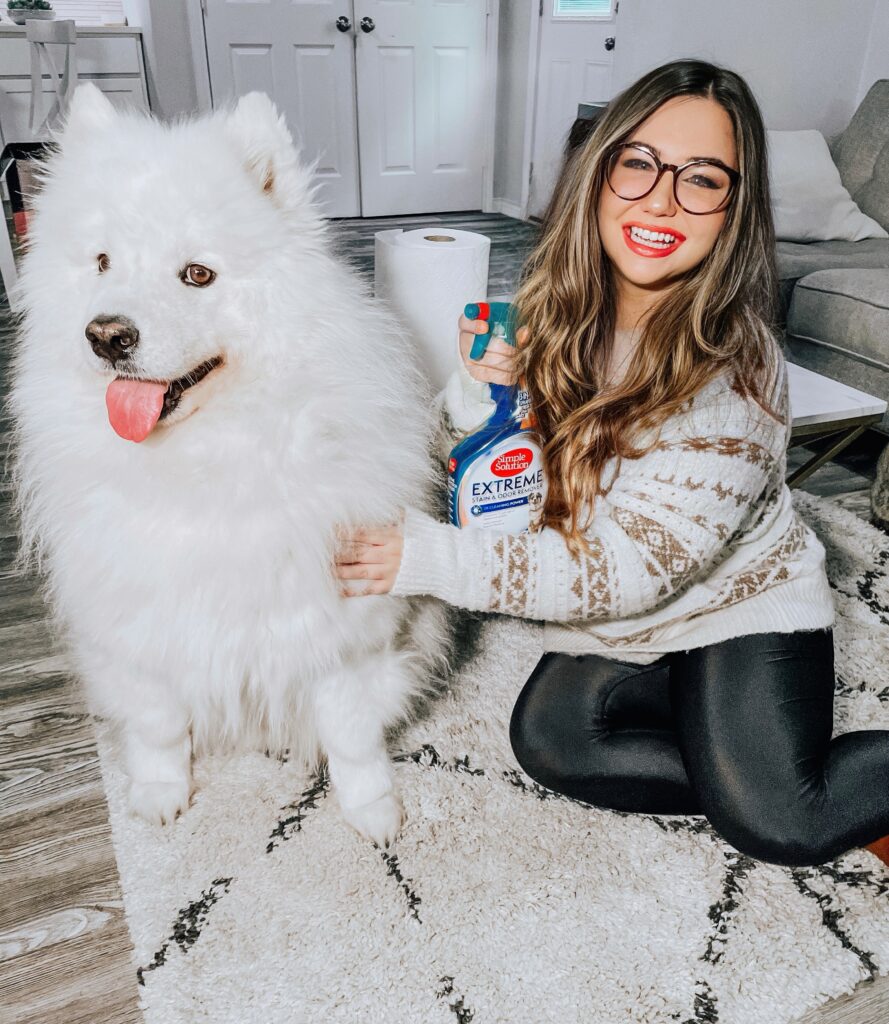 We deal with quite our fair share of pet-messes, especially since Meeko tends to track in mud from the backyard. We have several rugs and upholstered furniture throughout our home, and we're always on a mission to keep them as clean as possible. We've tried SO many pet cleaning products and this one from Simple Solution is by far the best and strongest that we've used! It picks up stains and discoloration with ease and leaves behind a pleasant fresh-smelling odor. It safely and quickly removes stains caused my mud, urine, feces, vomit etc. off of surfaces such as carpet, upholstery, clothing, toys, and bedding.
Check out and shop the cleaner HERE
Extra-Strength Soft CBD Chewables for Dogs & Cats from Treatibles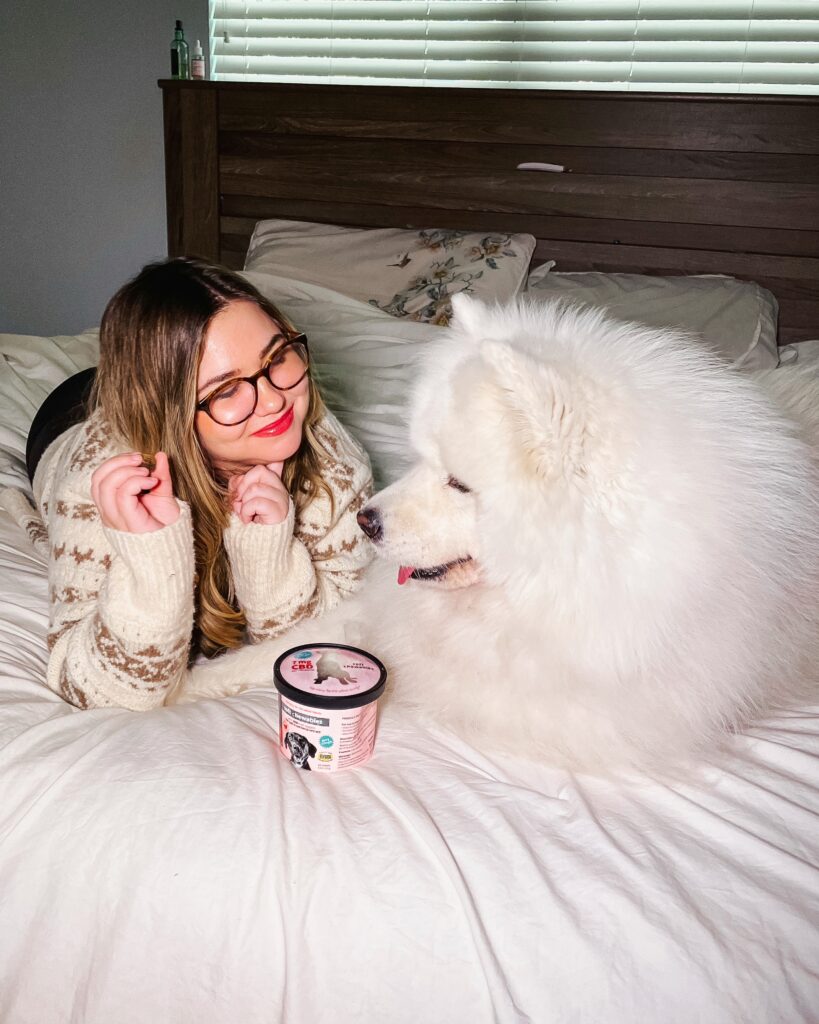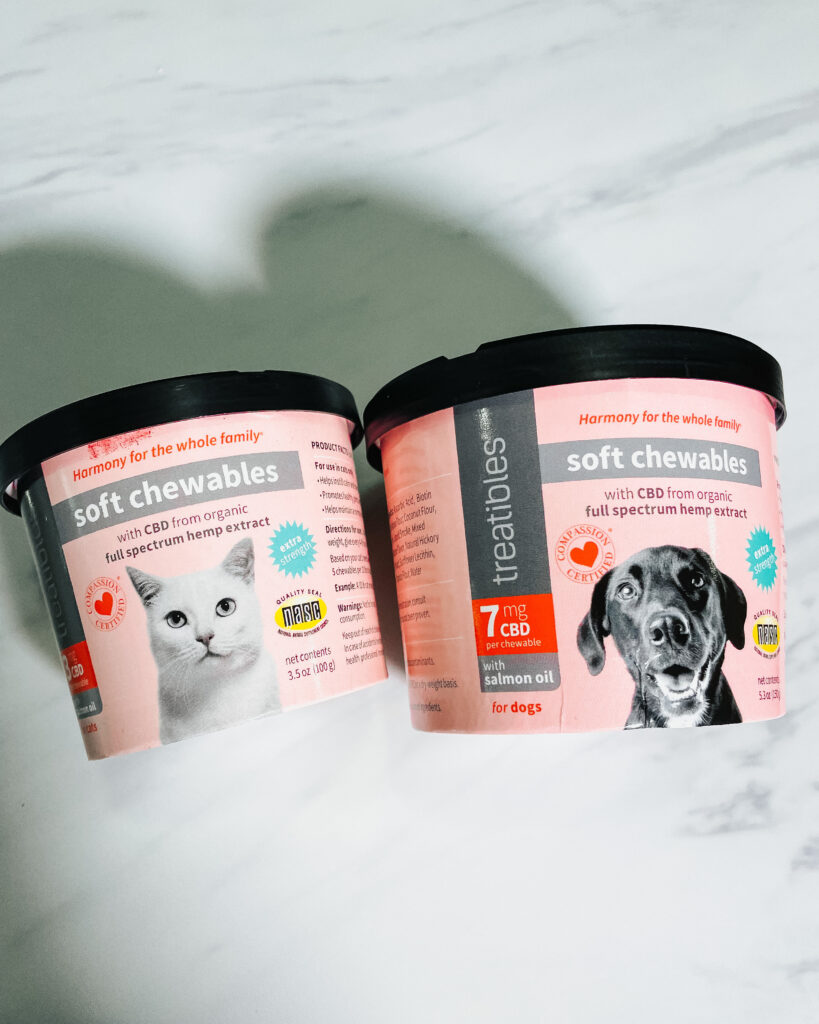 As a CBD-user myself, I've always been interested in CBD for pets. Both Meeko, and my cat Pip struggle with anxiety and I thought it could be super beneficial for them both. I found the soft chewables from treatibles, who essentially pioneered CBD for pets, pioneering the whole category. They even do third party lab tests for their Organic Full Spectrum Hemp CBD Oil testing for cannabinoid content, and to rule out pesticides, heavy metals, and biocontaminants. Additionally, they're also tested for consistency and potency. With all of this in mind, I felt the most comfortable and at ease using Treatibles CBD Chews over other brands!
The Extra Strength Chewables for dogs contain 7mg of Full Spectrum Hemp CBD extract per chewable and are an excellent source of Omega-3. Meeko loves the salmon flavor taste and it helps with travel & storm anxiety, digestive issues, and joint discomfort. This is also a great option if your dog struggles with arthritis, needs pain relief, or if you just want to help promote calm for your pup.
Shop the chewables for dogs HERE and use code TRTBBDOG15 for 15% off (good through Dec 31 2021)
The Extra Strength Chewables for cats help calm anxious and stressed cats, eases discomfort and helps enhance joint function, and supports the immune system
Shop the chewables for cats HERE and use code TRTBBCAT15 for 15% off (good through Dec 31 2021)
Ear Relief Finger Wipes and Enzymatic Toothpaste for Dogs from Vet's Best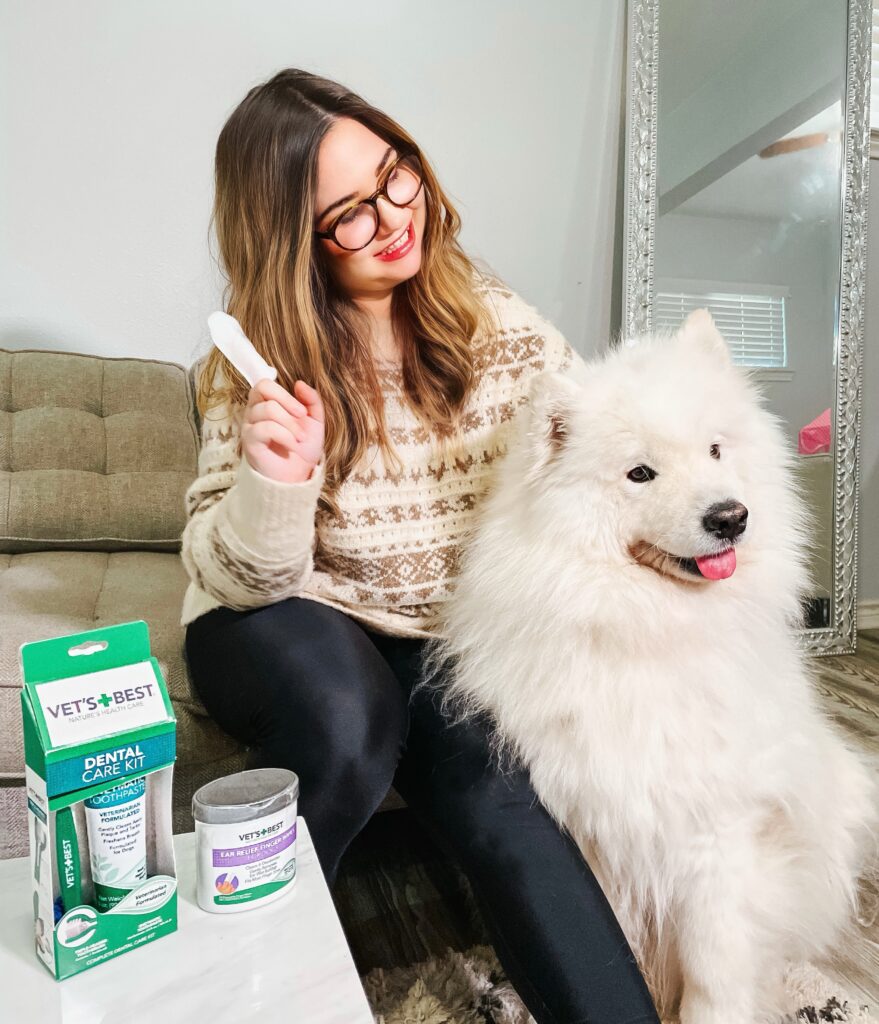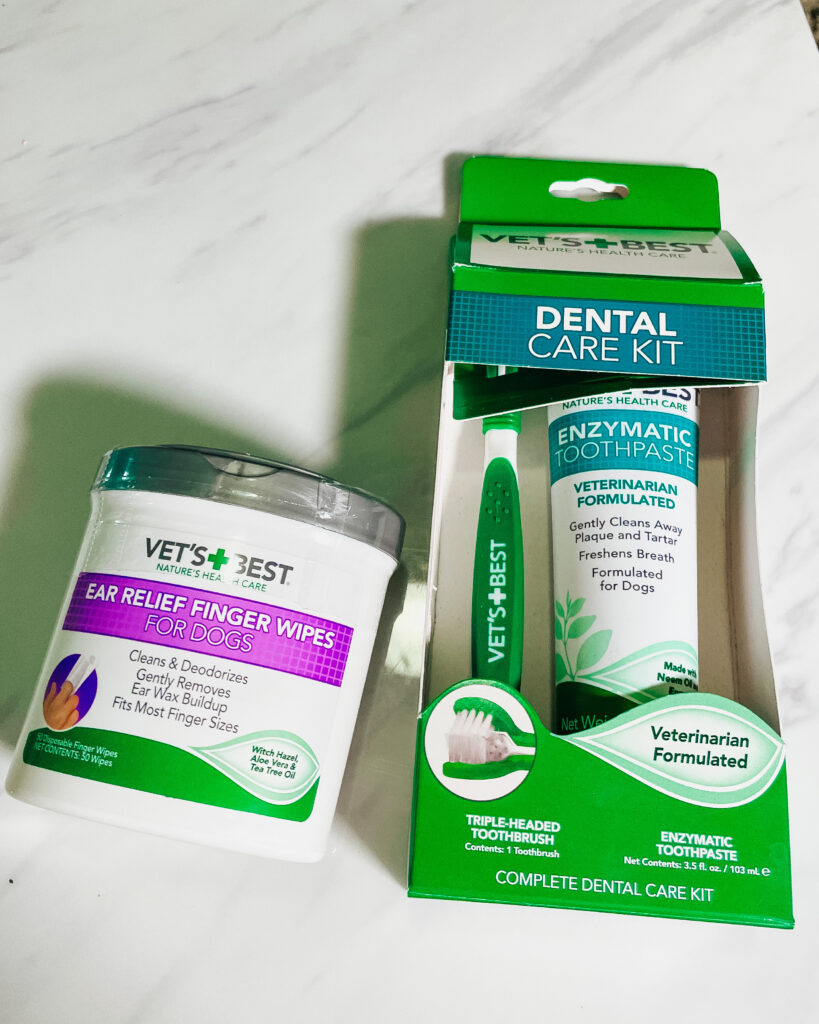 Meeko has struggled with ear infections in the past since he has allergies. That means we have to make sure we're cleaning out his ears pretty frequently (and especially after baths) to keep him healthy and comfortable. We also brush his teeth, because even dogs need good dental hygiene! For hygienic products, we love Vet's Best. This brand combines the best of both worlds with veterinary science and natural plant- based ingredients so you're not forced to choose between effectiveness and safety for your furry friends.
The Vet's Best Ear Relief Finger Wipes are a great dog ear cleaner option that smells good and is super easy and convenient to use! The wipes are made from natural, safe ingredients that work to remove ear build-up and dirt effectively and easily. Meeko actually really enjoys the process because he feels like he's getting a quick ear massage!
The Vet's Best Enzymatic Toothpaste and Toothbrush for Dogs is formulated by vets and supports your dog's dental hygiene with it's effective and natural mix of aloe, neem oil, grapefruit seed extract, baking soda, and enzymes.
Shop Vet's Best Products HERE
That's a wrap! I hope you found this Dog/ Pet Product guide helpful and informative and I hope you and your pet love these items as much as we do. As always, if you have any questions please feel more than free to leave a comment or send me a DM on Instagram.
Xo,
Skye